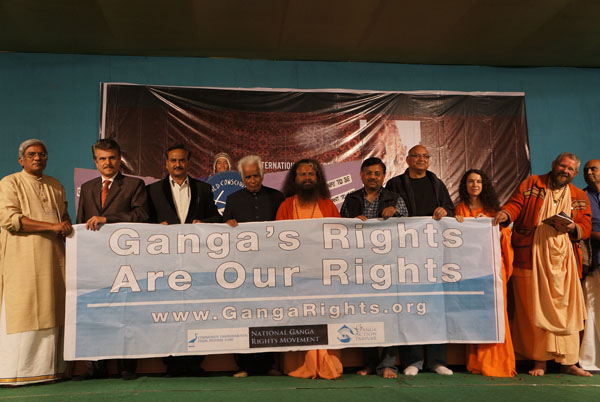 Today was the concluding program for the Yoga & Ayurveda Conference taking place for the last two days at the Ganga Action Parivar camp, jointly organized by Punarnava Trust and Ganga Action Parivar. The last session was on the topic of vegetarianism for the body, the mind, the spirit, the Earth and all of humanity. The session was blessed by the presence of Pujya Swami Chidanand Saraswatiji, Founder of Ganga Action Parivar and President of Parmarth Niketan Ashram, Rishikesh.
Pujya Swamiji said, "If we cannot give life, then we have no right to take life away. Our body is a divine temple, given to us by the Divine. It is our duty to treat it as a temple and not to treat it like a graveyard for animal corpses. Through eating meat we are not only killing the animals we are also killing ourselves, our planet and all of our brothers and sisters." Pujya Swamiji then urged everyone to "Pledge to Go Veg!" Everyone in the hall raised their hands. Pujya Swamiji encouraged them that "Each one should reach ten so we can spread this crucial message and save the planet."
Other speakers in the session included Sadhvi Bhagawati Saraswati of Parmarth Niketan & Ganga Action Parivar, Swami B.A Paramadvaiti of Germany, Dr. N. Gopalakrishnan a scientist from CSIR and founder of Indian Institute of Spiritual Heritage, and Dr. Sergio Lais the Consul General of Argentina to India.
Sadhvi Bhagawati Saraswati said: "Being vegetarian is no longer simply a personal choice regarding what foods we like to eat. It is now the only choice for anyone who cares at all about the environment, natural resources, suicidal farmers, 40,000 children who die of starvation each day or the approximately one billion people who sleep hungry each night."
Sadhvi Bhagawati went on to explain that enough grain (wheat, rice, corn, etc.) is produced each day to give every person on Earth two loaves of bread. There is no need for anyone to go hungry, let alone die of starvation. However, the vast majority of the grain grown in the world is not fed to people. Rather it is fed to the cows, chickens and pigs who later become hamburgers, hot dogs and chicken nuggets. Cycling our grain this way leads to a tragic percentage of the population suffering from hunger and malnutrition.
She then spoke about India's suicidal farmers whose fields are dry and crops parched. "Every hamburger you eat uses the same amount of water utilized in bathing for six months. Every chicken dinner you eat utilizes the same amount of water utilized in bathing for two months. Are we really ready to refrain from bathing that long in order to offset the water wastage in livestock production? Do we really care about our hamburgers and chicken sandwiches more than our poor farmers?"
This was followed by a question-answer session in which audience asked questions about everything ranging from protein to sattvik food.
Dr. Sergio Lais, who was an allopathic M.D. doctor before turning his attention to Ayurveda, spoke about the ayurvedic negative impact of meat. "Meat leads to tamas in the body. Not only do we feel sluggish and lazy but all of the systems of our body become sluggish and hence disease festers." He spoke also from a medical perspective and said that "All diseases afflicting our bodies today can be attributed to meat eating."
Dr. N. Gopalakrishnan also spoke beautifully about the wrongs of meat eating from an Ayurvedic perspective.
A book on vegetarianism written by Pujya Swami Chidanand Saraswatiji was released on the occasion. Pujya Swamiji said: "This book explains why — from a moral perspective, a spiritual perspective, a physical perspective and an environmental perspective — eating meat is a gravely wrong decision." The book was distributed to all present.
Swami B.A. Paramadvaiti had prepared a "Global Passport" for those who become vegetarians. In Central and South America he has arranged with local restaurants and stores to give discounts to people who carry this passport. It is such a great idea that everyone agreed that it should be expanded to include every country.
The program concluded with a ceremony on "Ganga's Rights are our Rights" led by Pujya Swami Chidanand Saraswatiji who said that just as all humans have rights so should Ganga have rights to flow unpolluted and uninterrupted.
Vegetarianism is an important subject dear to Ganga Action Parivar, as vegetarianism is directly linked to our environment. The raising of livestock for the purposes of eating is one of the biggest consumers of the Earth's natural resources in the world, as it heavily uses and wastes precious water (significantly more than agriculture) and land (which is often in places where forests once stood, cut down for grazing land and ranches). Animal by-product industries are also major polluters of the Ganga, especially the tanneries, which dump their toxic effluents directly into Ganga and Her tributaries, often without any treatment. Thus, the importance of going vegetarianism is not only for our own health and our own peace of mind, but it is truly important for the Earth and Mother Ganga.